Today, martial arts enthusiasts from around the world had their eyes glued to the much-anticipated kumite championship. The morning kicked off with intense qualifications, and by the afternoon, fans were treated to nail-biting finals, where athletes vied for the coveted Gold, Silver, and Bronze medals.
JUNIOR KUMITE FEMALE -48 KG
Gold 1 MEKKI MANEL ALGERIA
Silver 2 EL MACHOUAT DOUAA MOROCCO
Bronze 3 LESLY CARELLE TUENO FOTSO CAMEROON
Bronze 3 ALY GANNA EGYPT
JUNIOR KUMITE FEMALE -53 KG
Gold 1 KHALIL ARWA EGYPT
Silver 2 IMITIK NEJMA MOROCCO
Bronze 3 GHANEM MOLKA TUNISIA
Bronze 3 YEZAKUZWE LUCIE RWANDA
JUNIOR KUMITE FEMALE -59 KG
Gold 1 CHOUKRI DOAE MOROCCO
Silver 2 BEN HASSEN RANIM TUNISIA
Bronze 3 ABOELNAGA BATOL EGYPT
Bronze 3 MAKAM KAMGANG ANGE CAMEROON
JUNIOR KUMITE FEMALE -66 KG
Gold 1 BOUDRAA RAOUANE ALGERIA
Silver 2 ELROUBY ALAA EGYPT
Bronze 3 KESSANTINI TASNIM TUNISIA
Bronze 3 OLIVIA DAVINA BODIONG GABOAYA CAMEROON
JUNIOR KUMITE FEMALE 66+ KG
Gold 1 LABID AYA MOROCCO
Silver 2 ETTALEB MERIAME TUNISIA
Bronze 3 BOUNA NANFACK VERRA CAMEROON
Bronze 3 ZIDAN NOURHAN EGYPT
JUNIOR KUMITE MALE -55 KG
Gold 1 FERCHICHI IHEB TUNISIA
Silver 2 ALAMELDIN SAMER EGYPT
Bronze 3 KICHOU ALA EDDINE ALGERIA
Bronze 3 TCHICH MARWANE MOROCCO
JUNIOR KUMITE MALE -61 KG
Gold 1 SADINI SAMIR MOROCCO
Silver 2 HASSEN YASIN EGYPT
Bronze 3 MOLEFHE GABRIEL BOTSWANA
Bronze 3 NARE NESTOR BURKINA FASO
JUNIOR KUMITE MALE -68 KG
Gold 1 BADJOU MOHAMED-AMINE MOROCCO
Silver 2 ABOUELROUS AHMED EGYPT
Bronze 3 NSALA KAO BOTSWANA
Bronze 3 JOSEPH DANIEL DJIOMO CAMEROON
JUNIOR KUMITE MALE -76 KG
Gold 1 EL BAHRY SALAH EDDINE MOROCCO
Silver 2 FARAG YOUSSEF EGYPT
Bronze 3 GHAZOUANI RAYEN TUNISIA
Bronze 3 ACHOURI NIZAR ALGERIA
JUNIOR KUMITE MALE 76+ KG
Gold 1 OSMAN OMAR EGYPT
Silver 2 SECK SERIGNE MBACKE SENEGAL
Bronze 3 JERIDI YOUSEF TUNISIA
Bronze 3 HEBBAL OTHMANE MOROCCO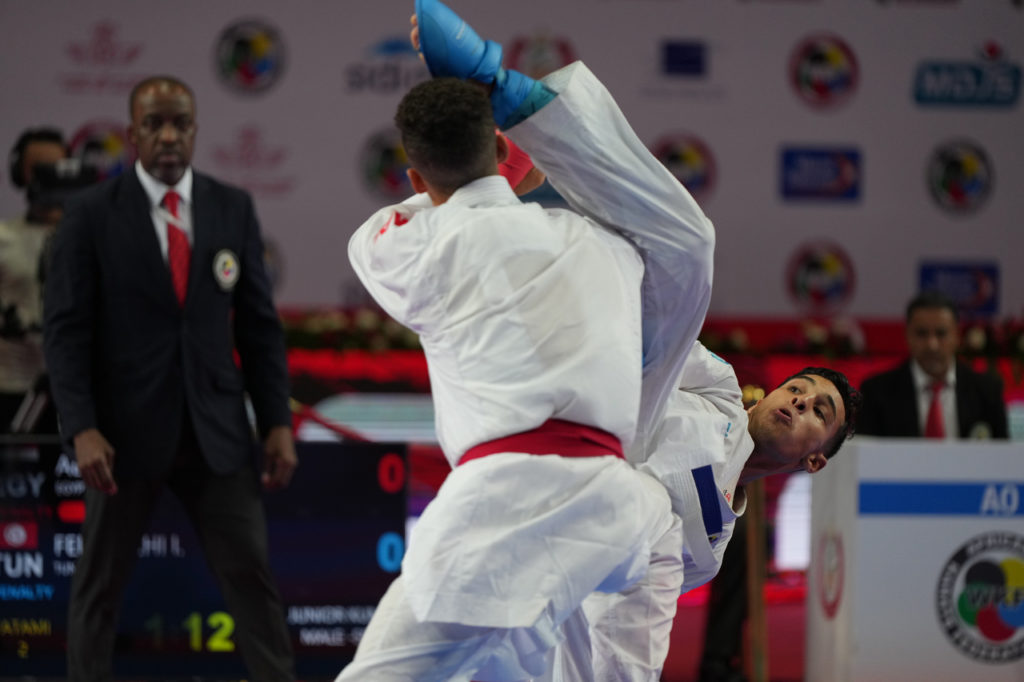 Medals Tally:
With the conclusion of today's events, countries have begun tallying up their medals. Here's how some of the top countries fared:
Egypt: 3 Golds, 3 Silvers, 6 Bronzes
Morocco: 3 Golds, 2 Silvers, 3 Bronzes
Tunisia: 2 Golds, 2 Silvers, 4 Bronzes
Algeria: 2 Golds, 0 Silvers, 2 Bronzes
Cameroon: 0 Golds, 0 Silvers, 4 Bronzes
Today's championship provided a riveting showcase of talent, dedication, and sportsmanship. As the dust settles on the mat, we celebrate the victors and commend all participants for their outstanding effort.